This is a guide to how you can spend 48 hours in Warsaw if you only have a weekend to visit. The guide has all the best things to do in town ranging from parks, cafes, bars, tourist attractions and some alternative hidden gems.
[the_ad id="14241″]
Like a Phoenix, Warsaw has done an amazing job at rising from the literal ashes that WW2 left it in. By 1945, more than 80 % of this beautiful city was left in ruins and centuries of history were lost. Since then, an impressive restoration effort has brought back the charm of Warsaw's old town and a stroll through the streets today is a strong reminder that life carries on. The nightlife is among Poland's best with thousands of students flocking the city's bars (one has no less than 100 beers on tap!) and there's plenty of quirky corners for backpackers to explore. Find out where it's all at in our guide to the top things to do in Warsaw!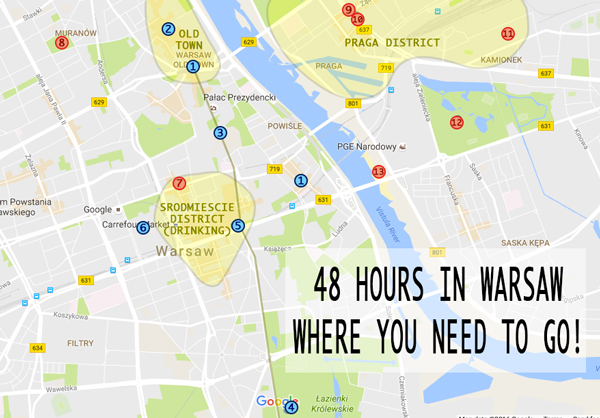 1. Pancakes & Warsaw's Free Walking Tour
Start your day off the best way possible, with PANCAKES! Grab a coffee and breakfast from Mr.Pancake on your way into old town. Once you've made it into the heart of tourist-ville go on the free walking tour. It starts at 10:30 AM from the Sigismund´s Column at the Castle Square.
We love going on free walking tours as they show you the important things to see and give you your bearings in the city. This one is no different with a little information about history and some insider tips of Warsaw, including the fact that the whole of the old town was completely destroyed in WWII.
Related post: Backpackers guide to 48 hours in Krakow
I mean, nothing was left. Everything that looks old now has actually been rebuilt after the war to look old. After finding this out it really made old town loose its authenticity and feel more like Disneyland. The thousands of tourists packing the streets and astronomical prices didn't help either.
2. Cheap Authentic Polish Food
Enough walking and time for some grub at Pod Barbakanem. This is the one legacy from the Soviet times we are stoked about in Poland, bar Mlecznies or milk bars.
No they're not where the Milkybar Kid hangs out in Poland, but a cafeteria type restaurant that serves cheap Polish food. These were the main restaurants during soviet times and there are a few left today. Be warned though, the cheap prices normally come with a few hurdles. The menu will normally be in Polish and the serving ladies are normally angry and short-tempered. In other words, great fun!
3. Walk The Royal Route
As long as you haven't exploded after eating too many pierogi you can start walking the Royal Route. This 11 km route was what once connected the old town of Warsaw and the summer residence of Polish kings. Now it's a great walk past about 20-ish historical lanndmarks.
Related post: Everything you need to know about visiting Auschwitz
As you walk down the street keep an eye out for benches that play classical music. They are one of many tributes Warsaw has to its homegrown hero Chopin. The composer from the 1800's is still a pretty big deal here in Warsaw and if you want to get up close and personal you can even touch his heart, well almost. With his last breath Chopin wanted it cut out of his corpse and sent from Paris back to Warsaw. To this day it's still inside the Church of Holy Crosses.
4. Chill Out In Lazienki Park
There is no need to walk the full 11 km of the Royal Route, you can stop at 4 km. This will be when you hit Warsaw's biggest green space, the lovely Lazienki Park. Go for a stroll and check out the palaces, statues and lakes that are dotted around the park. If you're in town on a Sunday, finish up at the Chopin Koncerty where there is a free show put on from 12 PM – 4 PM during summer.
5. Hang Out In Palm Tree Square
Now that you're all relaxed it's time to put the past behind you and see what Warsaw's youth are up to. You can walk or catch a bus back up to palm tree square. This is where all the action goes down after dark.
Check out Chmielna street and Foksal Street for any type of food you could wish for. If you're spoilt for choice and need some help go for some CHEAP Polish fast food at Zapiexy Luxusowe. They serve zapiekanki which are a half toasted baguette PILED with meat, veg and cheese.
6. Party In Palm Tree Square
Luckily if you want to party the night away and drink lots of cheap vodka you won't have to go far. The whole Srodmiescie district is full of bars and clubs. If you want to check out Polish beers head to PiwPaw. They have 100 beers on tap from Poland and around the world. Or if beer gardens are more your thing then try one of the 25 inside Pawilony. Great spot just off the Royal Route to rest your tired feet.
Related post: Check out the crazy nightlife in Lviv
If you're there on the weekend have a look what's happening at the Palace of Culture and Science. They have all sorts of concerts and fun things the locals flock to.
7. Brunch Time
Luckily Warsaw is more a big city than a tourist mecca, so you've ticked off most of the main things to do yesterday. Have a pat on the back and sleep in a little before heading to brunch at Aioli. A hipster place with cheapish, good food and if you're staying at Oki Doki hostel you get 10% off.
8. Europe's Best Museum
Now, if you're into museums you should head to the POLIN Museum of the History of Polish Jews. Awarded the Europe's best museum in 2016, it's worth a few hours of your time. It's interactive and quite informative about the whole history of Jewish people in Poland. If you're in Warsaw on Thursday then it's FREE!
9. Brooklyn Of Warsaw
Otherwise it's time for some off the beaten track adventures. Head on over to the other side of the Visla River to the Praga neighbourhood. Let's call it the Brooklyn of Warsaw.
Unlike old town, Praga was untouched during the war and everything is as it has been for the last hundred years. They have only just started gentrifying the area recently, so prices are still low and it's still rough around the edges. This roughness and originality has lead to a string of movies being filmed in the area, the biggest one being "The Pianist".
Related post: Backpackers guide to 48 hours in Vilnius
Head straight for Zabkowska street at the heart of Praga to the best milk bar in Warsaw, Bar Zabkowska. Along with their amazingly good and cheap food you actually get an English menu and smiles from behind the counter.
10. Poland's Former Black Market Epicenter
After you're full, walk up Zabkowska street to get a feel for the Praga neighbourhood. There are hidden courtyards, decaying buildings, street art and people going about their normal life. Check out Bazar Rozycki and what used to be the centre of Poland's black market trade during Nazi and Communist times.   Nowadays there aren't so many guns being sold, but more along the lines of Kappa sweat pants and wedding dresses. A complete 180 turn compared to the hectic tourist hub of old town.
With its checkered past we had heard mixed reports about the safety of this neighbourhood. "It's too dangerous" and "don't go at night", but in the end it was the same as any "bad" neighbourhood. Occasionally you're hassled by harmless vodka-swilling drunks. As long as you keep your cool, don't stroll into people courtyards or the bazar after dark it's fine.
11. Soho Factory
If you're up for more walking through the rough streets of Praga start hiking to the Soho factory. This is the heart of Praga's gentrification project with fancy restaurants, night clubs and offices. The piece de resistance is the Neon Muzeum. A cheap museum with lots of bright and shiny lights from soviet times.
12. Skaryszewski Park
Once you're finished at Soho go for a walk through Skaryszewski park on your way back to the beach. Yes I said beach, but more about that in a moment. First, enjoy walking through the nicest park in town and past the national football or "swimming pool" stadium on your way back to the Visla river.
13. Time For The Beach!
Now, finish your day and weekend off at Poniatówka beach. This i