Despite what you might think, backpacking in Cuba is not exactly easy on the pocket. That's why we've put together this lovely list on how to backpack Cuba on a budget!  
Backpacking in Cuba is, without doubt, one of the most unique travel experiences you'll ever have. You'll get to ride around in colourful American cars from the 50s, sip on addictive mojitos, and perhaps even discover a hidden talent for salsa dancing. Sounds pretty good, hey?
Well, that was the good news. The bad news is that backpacking in Cuba is not cheap. If you're not doing the whole resort or package deal thing, chances are backpacking Cuba on a budget will eventually get to you.
The cheap food options are extremely limited and it's actually quite hard to cut back on costs.
The biggest culprit is accommodation which can easily soar to a whopping $30 per night for a not particularly fancy room.
Your daily budget will end up at around $45 – That's once you include transport, food and a few beers and you've been trying to be cheap!
But fear not, Cuba-bound amigos and amigas! We've been through the struggle of being on a tight budget in Cuba and have come up with 10+ life-saving tips on how to save some pesos. Memorise what you're about to read – you'll need it!
Our All-Time Cuba On A Budget Tips
Learn Spanish
In case it's escaped your attention, we're just going to state the obvious here: Cubans speak Spanish. English is not unheard of, but you're setting yourself up for failure if you rely on it. Chances are casa owners in more popular cities will have some level of English going on, but if you're looking to save some pesos, speaking Spanish is key.
Not only are Cubans likely to call you out for not speaking Spanish, it's also a bit of an issue if you were planning on bargaining your way to lower prices. In other words, time to google un poco de español!
Speaking of bargaining
While we're on the subject, Cubans are no strangers to the good old "dude, I don't want to pay that" game. As long as you take on a laid-back attitude and remember to activate your natural charm, you should be able to work out some deals, especially with the casa owners. You'll probably find that there isn't much budging when it comes to room prices, but the owners often won't mind throwing in a free breakfast or a discounted dinner.
Again, this is where speaking Spanish really comes in handy. It's limited how much you can get across wit basic sign language.
Spend CUP – Not CUC
Now, if you've read our Ultimate Cuba Backpacking Guide, you'll know that Cuba has two official currencies:
The CUC
The CUP
We won't go into detail here, but the gist is that the CUC is a tourist currency only meant for foreigners and the CUP is the currency the Cubans are meant to use.
If it sounds confusing, well, yeah, it is at first. You'll get the hang of it within a couple of days, but what you need to remember is that CUC prices are – not surprisingly – much higher than CUP prices. As in, 25 times higher. That means if you're trying to do Cuba on a budget, you'll want to pay CUP prices whenever it's possible. Rest assured that goods meant for tourists will always be charged in CUC, but you'll be able to pay for everyday things like, say, a bottle of rum in CUP.
If all if still confuses you, then this video might help explain the money situation a little better.
Team up
If you're a solo backpacker, you'll have a hard time doing Cuba on a budget. The reason for that is that casas particulares charge you for an entire room, not just for the one bed you're going to use. The same goes for the taxis colectivos which are taxis that run between cities like small buses. When you jump in one of those bad boys, you're paying for the entire car.
As you may have figured out by now, the way to save money here is to team up with other travellers. You'll be paying less for the exact same thing and, as a bonus, you might even make some lovely travel buddies. If not, well, bring along a crossword puzzle for those long awkward silences.
Budget Cuban Food Tips
Eat Street Food
We've said this before and we'll say it again: Cuban street food SUCKS. Yeah, you heard us. Capital letters and all. The best way to describe it is an endless hell of dough in different shapes and sizes with a bit of tomato sauce and canned ham here and there. That's literally it and it's absolutely woeful.
So why are we telling you to eat it anyways? Because of one reason and one reason alone: it's dirt-cheap. A chewy mini pizza-like thing will cost no more than 15 CUP which would be a bit of a steal it if wasn't so urgh. You can say many things about carbs, but if there's one thing they know how to do, it's make you feel full. As a backpacker trying to do Cuba on a budget, that's a win-win. Let it be known that you will reach new lows in terms of food tantrums. In fact, there probably will be tears at some stage. But, you know, if you're looking to save some pesos, this is one – very painful – way.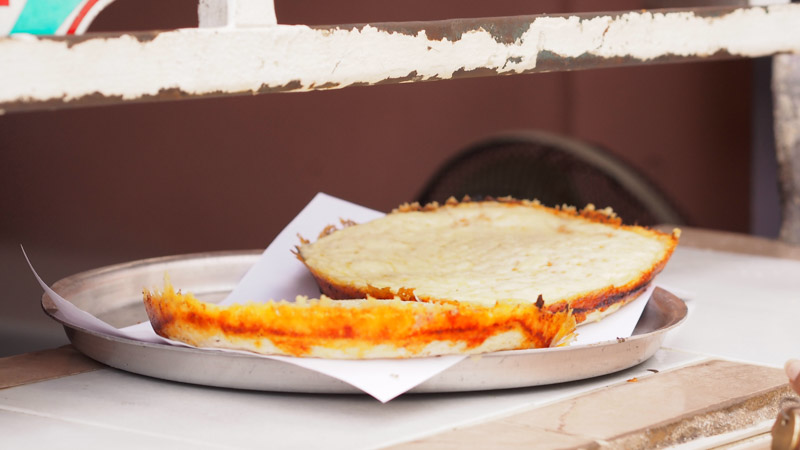 Eat At Paladares
These places are heaven-sent breaks from the street food hell. Paladares are privately-owned restaurants that charge prices in CUP which, as we all know by now, means the food is incredibly cheap. There's normally not more than 6-7  basic dishes on the menu, but believe us, you'll take anything that doesn't involve chewing through more dough. Most meals are around 60 CUP and you'll often find traditional Cuban dishes like ropa vieja.