This is the mother of all Cuba backpacking guides. We've squeezed absolutely everything you need to know in here, so pour yourself a Cuba Libre and get comfy – you'll be here a while.
Backpacking in Cuba is one of those experiences you'll remember for the rest of your life. This dreamy island has everything you could ask for; absolutely gorgeous beaches, vibrant culture, interesting history, and friendly locals. Add some mouth-watering mojitos and you've got yourself a winner, amigo.
Although things have changed a lot in recent years, Cuba still remains a truly unique country. Having been stuck in a time machine for more than 60 years, it's now a curious mix of old and new. You'll find Soviet relics and pastel-coloured cars from the 1950s as well as flat screens shipped over from the US. There's so much to explore and understand that you can easily get lost here for weeks.
In this ultimate Cuba backpacking guide, you'll find everything you need to know about independent budget backpacking in Cuba, you name it – it's all here:
PS. If you can't find what you're looking for in the guide, flick us a comment and we'll do our best to answer any questions.
Money Situation In Cuba
Currency In Cuba
Cuba is a bit funny when it comes to currencies. Since 1994, there's been two official currencies:
Convertible peso (also known as CUC)
Cuban peso (also known as moneda nacional, MN, or CUP)
The CUC is a tourist currency and the MN is the national currency meant to be used by the locals. The separation of currencies is an example of what some call the "tourist apartheid" in Cuba where locals and tourists are kept from mingling. Here's what you need to know about them:
There are 25 MN per CUC
The CUC is pegged at 1:1 to the US dollar
As a foreigner, you are meant to mainly use the CUC. In theory, goods that are meant for tourists are charged in CUC and goods that are meant for Cubans are charged in MN. In practice, you as a foreigner are best off carrying both as some places only accept CUC and others only MN.
Oh, and not surprisingly, the CUC prices are generally higher than MN prices. For example, a fancy mojito charged in CUC costs the same as a bottle of national rum charged in MN.
Cost Of Backpacking In Cuba
Contrary to what you might think, backpacking in Cuba is actually not that cheap at all.
The biggest expense is accommodation which is easily 30 CUC per night for a room. Food, transport, and the occasional beer is another 15-ish CUC. If you're travelling alone and don't split the bill, that means your daily budget would be somewhere around:
45 CUC or $45 – and that's even cutting it fine.
A good tip to save money in Cuba is to travel in a group of 2 or 3. Casas particulares and taxis colectivos charge you for the entire room or car, not per bed or per seat. That means you have an excellent excuse to team up with some other lovely travellers and pay less for the exact same thing. The more the cheaper, as they say. Or something like that.
Further Reading: 11 Tips To Travel Cuba On The Cheap
Is It Safe To Go Backpacking In Cuba?
Cuba is one of the safest countries we've backpacked in and we personally didn't experience any safety issues. No warnings about pickpocketing, no dodgy guys to look out for, no tricky tourist traps.
The only scam you need to look out for are the so-called jineteros. That's the name of the guys that see you looking for a casa particular and offer to take you there. Once you arrive at the casa, you'll then be charged the jinetero's commission (usually around 5 CUC) on top of your room price.
Need Travel Insurance For Your Trip To Cuba?
Transport On A Cuba Backpacking Trip
Getting To Cuba
Cuba is an island (shocker, we know), so the easiest way to get there is flying. The list of international airlines flying to Cuba is regularly being updated. For now, your best bets are:
Europe: KLM, Virgin Atlantic, Air France, Thomas Cook, TUI Netherlands, Condor, Aeroflot, Neos, Edelweiss, Blue Panorama, and Air Europa
South and Central America: Avianca, LATAM, Conviasa, and Copa Airlines
Mexico: Cubana (heads-up: they're cheap, but often cancel their flights)
The US: Delta Airlines, Spirit Airlines, Southwest Airlines, American Airlines, JetBlue, Alaska Airlines, and United Airlines
There's no less than 10 international airports in Cuba, but most carriers only land in José Martí International Airport in Havana, Juan Gualberto Gómez International Airport in Varadero, and Frank País International Airport in Holguín.
The best time to go backpacking in Cuba is in the shoulder seasons in September-October and May-June. The weather is not perfect (a bit of rain and the occasional hurricane), but prices are negotiable. You get the best weather in the dry season from November to April, but it's also harder to get away from the crowds. The most expensive time to go to Cuba is in the peak season from December-March.
Pro tip for backpacking in Cuba: bring some euros or Canadian dollars to pay for the taxi and then change to Cuban money in the city. This way you avoid the outrageously long lines at the airport.
Cuban Visa Requirements
The visa situation in Cuba might sound a bit confusing, but don't worry. In real life, it's actually pretty straightforward for most travellers.
When you book your flight, your airline or travel agent should give you a 30-day so-called tourist card. Some airlines hand them out on the flight, others hand them out at check-in. If you didn't get one, you'll be dumped at sea and will have to swim your way back to where you came from. Tough titties.
Just kidding.
If you didn't get a tourist card when you booked your flight, you can buy one for $20 in some airports (including Cancún International Airport) at check-in. It's also possible to buy one at José Martí International Airport in Havana on arrival. The immigration officer will then rip off half the card and you'll have to show the other half when you leave Cuba. Whatever you do, guard that bad boy with your life.
Related Post: 9 Things To Know Before Going To Cuba
What You Might Get Asked At The Airport
At the airport, you might also get asked to show proof of travel insurance. Your insurance certificate or medical assistance card would count as proof. If you don't have any travel insurance (tsk tsk), you will have to buy a Cuban one at the airport.
You might also be asked where you're going to stay for the first night. Booking accommodation online in Cuba is not really a thing, so what you can do is write down the address of a random casa particular in the city you land in. The immigration guys don't care if you actually stay there or not, they just need to jot it down somewhere.
Getting Around Cuba
In case you didn't know, Cuba is close to the size of the state of Florida. Aka, it's huge. The transport system has seen better days and is definitely not geared for the increasing amount of tourists. There are different prices for Cubans and foreigners and taxi companies do not allow Cubans and foreigners to ride in the same car.
With that being said, you have 5 options for getting around Cuba on your backpacking trip:
Viazul bus is the only long-distance bus company for tourists. They're expensive, the ticket lines are always long, and the bus stations are often in inconvenient spots. On the plus side, they're the most comfortable way to travel long distances in Cuba. Their routes cover major cities between Havana all the way down to Santiago de Cuba
Taxis colectivos are taxis that run between cities. They charge the same as the Viazul buses, if not less. If you're lucky, you get to ride in a car from the 50s which, for the record, is 100 % awesome.
Public trains are for the adventurous backpackers out there. Cuban trains are generally in a bad state and only recommendable if you're up for a rough ride. They never run on time, they're slow, they're likely to fall apart at any moment, but hey, it's a fun experience.
Tren Francés or French Train is a pretty fancy overnight train that runs between Havana and Santiago de Cuba.
The Hershey train is Cuba's only electric railway train and it runs from Havana to Matanzas. Heads-up: it had been out of service for several months when we visited in December 2015.
Accommodation In Cuba
This is another area where Cuba is a bit funny. As a solo budget backpacker, you're not left with many accommodation options. In fact, there's really only one – the casas particulares. Although they're fun to stay at, they're not the best place to meet fellow travellers as everybody just kinda do their own thing. That means backpacking solo in Cuba can be a bit of a challenge.
A good backup plan is to bring a good book and perhaps take up crocheting for those long, lonely nights. Alternatively, you can also just down a bottle of cheap national rum.
Casas Particulares
This is the classic Cuban tourist accommodation. Casas particulares are privately-owned houses that rent out a couple of rooms to foreigners. There's about a bazillion casas particulares in Cuba and they all vary greatly in quality, size, and vibe. You can basically end up in anything from a cosy family home to a wanna-be hotel. The family lives with you in the house, so the casas are normally also an excellent way to learn a bit about Cuban culture.
The majority of the casas don't have websites, so you normally have your host book you in at his friend's casa in the town you're headed to. If you don't have anything booked, just walk the streets looking for the blue triangle sign. Remember those jineteros we talked about earlier? Good. You'll want to steer clear of those guys.
Expect to pay a minimum of 35 CUC for a room with 2-3 beds in high season and probably more in Havana. You pay for the entire room, so being a group is cheaper. Breakfast (+5 CUC) and dinner (+10 CUC) can be served if you order in advance and prices are normally a little negotiable.
Pro backpacking tip: if you really want to save some money, look out for the orange triangles which are the casas particulares for Cubans. They only accept MN and you'll be lucky to even get sheets ($25-50 MN).
Cuban Hostels
Now, before you get your hopes up, we should probably say that for all we know, there's only a handful of hostels in Cuba. Of those, our top picks are;
By the way, when we say hostel, we mean a place with a few bunk beds, some sort of common room, perhaps even a kitchen, but not much else. The whole hostel culture is relatively new in Cuba but it's slowly getting there.
Government Hotels
Ever watched the movie Hostel? Cuba's government-run hotels are a bit like that.
Alright, fine, that might be a slight exaggeration, but most of those places are like ghost buildings. Nobody really stays there, they're more expensive than the casas particulares, and, well, they're nowhere near as fun. Unless you like having an entire hotel to yourself. In that case they're hilarious.
Further reading: How To Deal With Bed Bugs While Backpacking
Fancy-Schmancy Resorts
Last on the list are the many all-inclusive resorts you find all along the coast. The biggest hubs are Varadero and Guardalavaca and especially the stretch from Varadero down to Santa Lucia is resort-infested.
As an independent budget backpacker, this is probably not the most ideal type of accommodation. But hey, if you feel like pampering yourself, go for it. Who doesn't like all-you-can-eat buffets, mojitos on the beach, and tanning sessions by the pool? Be warned, though – your food budget will be seeing some serious cuts. In the peak season from December to March, a room is easily 200 bucks per night.
What Is Cuban Food?
Ouch. Bad news for the foodies out there. Backpacking in Cuba on a budget equals eating a shit-ton of crappy food. As in, the memories will haunt you for years to come. Dear lord is it woeful.
Fun fact: under Cuban law, killing a cow without government authorisation can get you more jail time (4-10 years!) than killing an actual human being. No shit.
Cuban Street Food
This is by far the worst one. Cuban street food basically consists of different variations of dough, ham, and cheese. That's it. You can get pasta with plain tomato sauce, these really oily, chewy pizza things, and croquetas or croquettes which are really just fried dough. Cuba is a bad, bad place to be a celiac.
The only upside to this culinary misery is that Cuban street food is dirt cheap. You rarely pay more than 10-15 MN for your dough.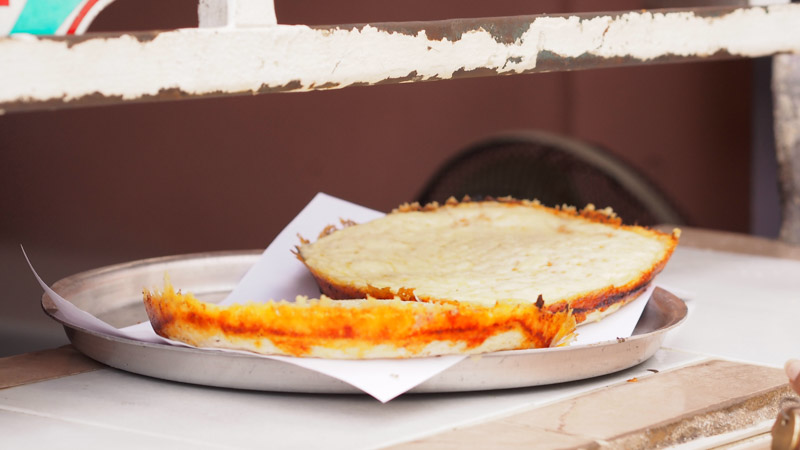 Paladares
Next up are the paladares which are privately-owned restaurants that normally charge MN prices. Meals start at 60 MN and they're a big step up from the street food. But then again, most food would be. There's typically only 6-7 dishes on the menu and the paladares do tend to run out of food later in the evening. If you want to be sure to get a meal, head there early.
Oh, and while you're there, make sure you try the ropa vieja or literally "old clothes" dish. Yummy name, right? It's a Cuban classic made of shredded beef, veggies, and tomato sauce, and it's one of the better things you'll try while backpacking in Cuba.
Tourist Restaurants
There are two kinds of tourist restaurants: the relatively cheap and the ridiculously expensive. The "cheap" ones start at around 8 CUC for a main which wouldn't be too bad if the food was actually nice. The thing is that it's generally not. You can often get the same dish for a fraction of the price in a paladar.
The more expensive tourist restaurants are what will keep up your inner foodie's will to live in Cuba. Prices start at a whopping 20 CUC but man is it worth it after a week in dough hell. The menus are reasonably exciting and, in any case, this is as good as it gets.
Where Should You Go Backpacking In Cuba?
Havana
Havana is unlike any other city you've seen before. It has this mix of brown Soviet relics and a growing modern vibe that makes it truly unique. It's also the only city with a real big city feel to it which makes it the best spot to do some serious sightseeing.
One of the best things to do in Havana is actually just to stroll through the streets. Cuban street life is pretty rad and there's always something going on. Start out by roaming through the historical Old Havana to see some overpriced cocktail bars and hoards of tourists. And then, when you're ready to see "the real" Havana, head over to the more residential Central Havana.
A few of the other best things to do in Havana include:
The boardwalk or Malecón is the place to be at sunset. Pick up some cheap rum, find a good spot, and watch the locals promenade by in the soft light of the dying Caribbean sun.
Museo de la Revolución is a great place to learn about Fidel Castro's rise and rule. There's enough communist propaganda and guerrilla relics to keep you entertained for an hour or two.
Calle Mercaderes is Havana's pedestrian shopping street. It's, without doubt, the most touristy part of town, so take your time and prepare for some quality people watching.
Callejón de Hamel is an Afro-Cuban community art project. It's an alleyway filled with pretty sweet murals and there's a rumba show every Sunday. It's not the most authentic Cuban experience but hey, who doesn't like a good dance?
Viñales
Viñales is where you go when you've had enough of Havana's busy streets. It's a little green oasis about 3 hours west of Havana and it's likely to be one of the highlights from your Cuba backpacking trip.
The town of Viñales itself is quite tacky and the main street is basically just restaurants and tourist shops. None of that matters, though, when you start exploring the surrounding green hills. That's where the charm is at! Viñales is where some of Cuba's finest tobacco is produced and the hills are full of small-scale traditional plantations. Rent yourself a horse and spend the day sampling Cuban cigars and world-class mojitos. Not too shabby, eh?
If you want to squeeze in some exercise, there's also plenty of hiking, rock climbing, biking, and caving in the Viñales Valley. Viñales is your oyster!
Cienfuegos
Cienfuegos is nicknamed the "Pearl of the South" and although it does shine here and there, it's not mind-blowingly awesome. It's a good spot to do some city chillaxing but not really much else.
If you do make it there, make sure you drop by Paseo del Prado which is the city's main boulevard and of course the Malecón. It's not as fun and lively as the one in Havana, but it's still a boardwalk in the Caribbean aka you can't complain too much. Then there's El Bulevar, a pedestrian shopping street where you can see what a 50-year trade embargo does to a country.
Let's put it this way: your food budget won't be seeing any serious cuts.
Santa Clara
Not only is Santa Clara home to Che Guevara's final resting place, it's also a vibrant city with a both historical and edgy vibe. It stands out as one of the more alternative cities you'll see when backpacking in Cuba.
One of the best things to do in Santa Clara is to spend a night at Club El Mejunje. That's the name of the most awesome bar/cultural space/art gallery/music venue in town and you better get your behind down there. The place is a bit of a national legend and it's played a massive role in pioneering for LGBT rights in Cuba since the mid-80s. They've got random bands playing live on weeknights, and every Saturday night is gay disco night. Enough said.
Taking things down a notch, another thing to do in Santa Clara is to swing by the Fábrica de Tabacos Constantino Pérez Carrodegua. As the name indicates, it's a cigar factory run by the Cuban government. Just note that you need to buy your ticket in advance via the state-run travel agency Cubatur and that pictures are not allowed.
Matanzas
Yawn… Trying to find something nice to say about Matanzas is not easy. Sleepy, characterless, boring, and a bit hard to get to know are just some of the words that come to mind.
If you skip this one when backpacking in Cuba, you're honestly not missing out on much. The city centre is strangely empty and there really aren't many things to see and do. There's the Teatro Sauto which at the time of writing was closed due to renovation, there's a mural of Che Guevara, there's a few cafes, and uh… That's about it. We're not even exaggerating.
Trinidad
Colonial Trinidad has a charming small-town vibe as well as breathtaking scenery. Start out by finding a casa particular in the area around Plaza Mayor and then spend the rest of the day wandering the cobblestone streets.
For a relaxed night out, head to the staircase next to Casa de la Música and enjoy live music and a drink in one of the bars. The square gets turned into a pretty busy dance floor, so make sure to wear your best dancing flip-flops.
For something to do during the day, it's a good idea to head out of the city. Trinidad is located in Valle de los Ingenios or Valley of the Sugar Mills and there's quite a few fun day trips available. That includes visiting the former sugar mills, the nearby fishing village of Casilda, and the beautiful Playa Ancón.
Camagüey
Camagüey is a fun little stop on the way down to Santiago de Cuba. The city is pretty well set up for tourism and there's enough stuff to do to keep you moderately busy for a few days. As with most Cuban cities, Camagüey's charm lies in taking it easy and expecting nothing.
Camagüey's casco histórico is one of the best-preserved old towns you'll see when backpacking in Cuba. The streets are lined with pastel-coloured colonial houses, there's quite a few cute squares around, and there are more churches than you can count. In other words, Camagüey is a very Instagram-friendly city.
A few spots you can't miss are Plaza San Juan de Dios, Plaza del Carmen, and Parque Ignacio Agramonte. You probably won't be blown away by any of these squares, but they're good for a little break or photo session.
Santiago de Cuba
Santiago de Cuba is in many ways a unique city. Its strong Afro-Cuban culture adds a colour, energy, and rhythm that you won't find in the western part of the island. As you're strolling the streets, you'll be hit by sweet salsa tunes coming from the nearby houses.
Apart from brushing up on your salsa moves, there's also a few cool things to check out in town. The Castillo de San Pedro de la Roca del Morro is a 17th-century fortress built to hold back Captain Jack Sparrow's great-great-great-great grandpa. You also get a pretty sick view of the nearby Sierra Maestra mountains. A little similar to Museo de la Revolución in Havana, Museo de la Lucha Clandestina is about the underground movement that overthrew Cuba's dictator back in the 1950s.
If that's all a little too dusty and historic, you can also just head over to Casa de las Tradiciones to see local musicians rehearsing. With a little luck, you might even catch a random street concert in the neighbourhood.
Cuba Backpacking Itineraries
Classic (Havana return)
Fly into Havana and spend a couple of days enjoying the city
Head west to Viñales and tour the tobacco plantations on horseback
Stop in Mantanza or a southern beach town to break up the journey to Santa Clara
Indulge in nightlife and visit Che Guevara's final resting place in Santa Clara
Then go to colonial Trinidad and explore nearby beaches
Spend a night in dull Cienfuegos before heading back to Havana
Spend a few days in Varadero if you want to squeeze in a resort stay
End the round trip back in Havana
Whole island (Havana-Holguín)
Follow the classic itinerary down to Trinidad, adding Varadero on the way if you wish.
Spend one night in Ciego de Ávila to break up the journey to Camagüey
Get lost in the labyrinthine streets of Camagüey
Relax in Bayamo and check out the street parties in the weekend
Spend a night in Santiago de Cuba to break up the journey to Baracoa
Continue to magical Baracoa at the very tip of the island
Drop by Guardalavaca if you want to spend a few days in a resort town
Have a last mojito in Holguín, last stop of the trip
Further reading: 8 best beaches in Cuba
Shit Bits Of Cuba
Speaking Spanish Helps!
"Why don't you speak Spanish?" Get used to that question if you dont speak a word of Spanish. Cubans are proud people and learning even just a few basic phrases in Spanish will give you easy brownie points. English is still not widespread.
Cuba is a unique experience. However, this uniqueness is double-sided. The fact that in most ways the island is still stuck in the 1950s goes from fascinating to frustrating over time. Be prepared to lose your patience at the daily prospect of empty stores, lack of varied food (once we even spent a whole day just trying to find mineral water!) and the general hopelessness.
Wi-Fi
Until mid 2015 wi-fi wasn't a thing in Cuba, unless you were at a fancy hotel. Now, in all main squares there is wi-fi if you buy a pre-paid card. It was an odd sight seeing hundreds of Cubans on their phones and laptops skyping friends and family overseas.
Cuban Street Life
Cubans pass a big part of their lives in the streets; walking, talking, or just sitting watching the world go by. It's a colourful insight into Cuban culture and something that will entertain you for days.
Phew, that's it, amigos. You now know absolutely everything there is to know about independent budget backpacking in Cuba. The only thing left to do is pack your backpack and you're ready to go!
What was your experience backpacking in Cuba? Do you have suggestions for things to add to the guide? Or do you just want to say hola? Drop us a line – we love making new friends! 
Other Resources
Our Top Cuba Picks
Disclosure: there are affiliate links in this article. This means we get a small commission from the company if you buy their product at no extra cost to you. We only use affiliate links for companies/products we have personally used. Just think of it as if you were buying us a beer to thank us for the work we've put into this post.