All the best things to do in Kashan put into one lovely list so you don't need to do the hard work yourself. We even included tips on where to stay in Kashan at the end. Easy! 
For many backpackers, Kashan is the first stop after Tehran. If that's your case, you're in for a surprise. The two cities have about as much in common as Nutella and Veggiemite do.
Compared to Tehran, Kashan is a sleepy desert town with almost no tourists. But don't let that fool you. Underneath this drowsy surface hides a proud city where history seems to lurk in every little crack. The fancy traditional houses bear witness to Kashan's glory days on the Silk Road. And if you like your history with a bit of nature, you can go explore the Maranjab Desert right next door. What's not to love?
Oh, and they've got some weird roofs. Yeah, you heard us. Roofs.
Agha Bozorg Mosque
Kashan's Traditional Houses
Sultan Amir Ahmad Bathhouse
The Roof Of The Bazaar
Maranjab Desert Day Tour
The Fin Garden
Abyaneh Village
Play Volley At Agha Bozorg Mosque
Why hasn't anyone thought of this before?
When we visited the Agha Bozorg Mosque, we were expecting to see another beautiful example of traditional Persian architecture. You know, hundreds of arches, colorful mosaics, perhaps even a stained-glass window or two. That kind of stuff. But not a volley court out back. Definitely not a volley court.

Apart from this fun little surprise, the Agha Bozorg Mosque is a typical Iranian mosque. In fact, it's praised as one of the greatest mosques from the 18th century. The front courtyard is flanked by rows of windows and rooms in perfect symmetry. Like a Babushka doll that keeps giving, there's then a second courtyard inside the first one with trees and fountains.
Grab your camera and head there around sunset for some sweet pictures!
Further reading: 82 Things To Know Before You Travel To Iran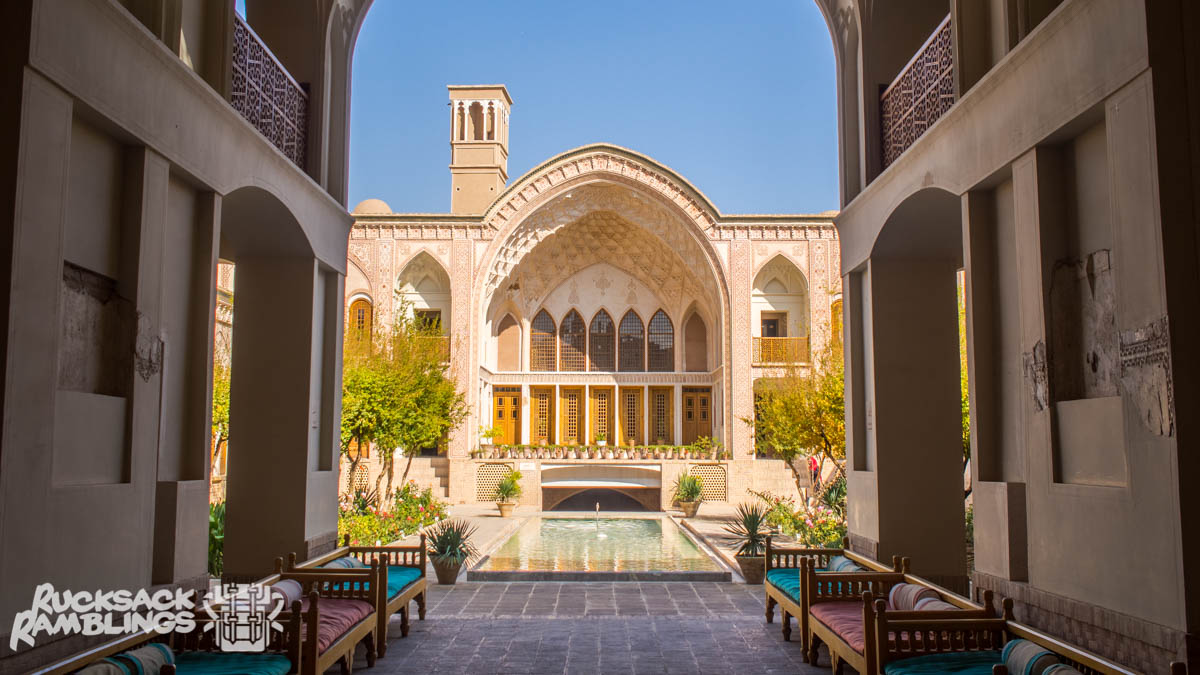 Visit Kashan's Traditional Houses
If you ask a local about the best things to do in Kashan, he'll probably send you to their traditional houses.
As it turns out, Kashan was a bit of a Persian Hollywood back in the good old 18th century. The Brads and Britneys of the time would parade around throwing diamonds to the poor. Or whatever the filthy rich were up to back then. Anyways, the point is these guys also built some ridiculously lavish homes. These are the most popular:
Khan-e Abbasian is worth a visit for the stained-glass windows alone! Go in the mid-afternoon and you'll catch some stunning colorful shadows. Entry fee 50,000 rial or $1.5
Khan-e Boroujerdi took 18 years to build and is known for its elaborate decorations. Not the Hilton, but also not a waste of time. Entry fee 16,000 rial or $0.5
Khan-e Tabatabaei has no less than 7 stained-glass windows – again, the best time to go is mid-afternoon. It's also famous for its stone reliefs if you're into that kind of stuff. Entry fee 150,000 rial or $4.5
Khan-e Ameriha is the Beyonce of the traditional houses. It's the fanciest hotel in town and was once the largest home in all of Persia. Needless to say, these guys didn't skimp; seven courtyards, two hammams, you name it. Entry fee 50,000 rial or $1.5 and includes a tour
Don't feel like spending an entire day looking at old stone reliefs? Fair enough. Just make sure you check out Khan-e Ameriha and Khan-e Tabatabaei. They're worth it.
Alright, not literally. But it's pretty close.
Here's the deal: the roof of the Sultan Amir Ahmad Bathhouse is pretty unreal. It's located close to the traditional houses and, in our opinion, the roof is just as impressive.
Start by strolling through the bathhouse itself. If you haven't been to an Iranian bathhouse or hammam before, you'll be impressed by the elegance in there. As you walk along the winding labyrinth, you'll enter big bath halls decorated with stunning turquoise and gold tiles.
When you're done getting ideas for some serious bathroom makeovers, head up on the roof or, more precisely, the planet of Mars. It's a whole different world up there. You'll see these weird domes with small windows all over the roof. They're there to let light into the bathhouse below and whoever came up with their design should get some sort of medal. This is probably the only time in your life you'll use the word "fun" about a roof.

The entrance fee is 150,000 rial but if you sweet talk the guard, you might make a little deal.
Further reading: Our budget and costs for travelling in Iran
Go On The Roof Of The Bazaar
And we're not done with the roofs yet!
Going on the roof of the local bazaar is definitely one of the best things to do in Kashan. It's similar to the one at the bathhouse except the view is much better. If you want the full experience, you should head up there just before sunset. Don't forget to peek through the windows of the big dome to see the inside of the bazaar from above. It's a bit like watching a real-life game of Sims.
Anyways, getting on the roof is a bit of mission. As budget backpackers, we, of course,