With its lively student population, crazy nightlife, theme bars and walkable distances, Lviv (pronounced Leveev) is our favourite city in Ukraine. Influenced by Austrian, Polish and Russian culture and architecture, the city is a melting pot that will continue to surprise you as you start to explore. By day you'll be charmed by the bustling street life and busy cafes and by night… Well, let's just say Lvivs nightlife involves shooting ranges, Putin-pooping, lashings and speakeasy bars.
Sound fun? Then keep reading to see the best hidden and local things to do in Lviv.
Already know the best things to do in Lviv? Then have a look at our practical Lviv essentials travel guide at the bottom with everything you need to know about the best hostels in Lviv, the different bus, flight and train options into Lviv and much more.
Things To Do In Lviv: Day 1
Walk Around The Beautiful Old Town of Lviv
Start your backpacking adventure in Lviv by getting to know the beautiful old town. This UNESCO World Heritage area is the epicentre for tourism in the city and for good reason. You can get lost in here for hours roaming alleyways and streets, poking your head in this coffee shop, that bar and any kind of restaurant you could dream of.
The best part of Lviv's old town is the lack of foreign tourists! If you compare Lviv to Krakow (the mean step sister of Lviv located just a few hours to the west), this city has been forgotten. Hopefully all those big tour groups stay in Krakow, as the lack of western tourists makes the old town still feel genuine.
Ploshcha Rynok Is The Heart Of Lviv's Old Town
At the centre of old town is Ploshcha Rynok or the market square. It used to be Lviv's main market back in the day, but it burnt down in the 1825 and wasn't rebuilt. Instead, the square is now the hub for cultural events in the city. It's also the main meeting point for many Lviv locals who still flock to the old town.
Although the market wasn't rebuilt the Town Hall and its tower were. From the top you have a good view (10 UAH entry) of the city and a very romantic spot if you're thinking about a marriage proposal. If not, there are better view spots the locals go for a free view of the city.
Across form the entrance of the town hall you find the Svit Kavy coffee shop. With 30 kinds of coffee to choose from this coffee shop is a must-see for any of you bean heads out there.
The Best Things To Do In Lviv's East
If The Market Square Is Lviv's Heart, Then Prospekt Svobody Is Lviv's Artery.
This 400 m promenade is the place where locals go to hang out and a great place for you to go people watching in Lviv. There is all sorts of things going on here night and day. If you're any good at chess don't be afraid to hit the old boys up playing on the benches. Watch parents chase after their kids. Or maybe you want to get a "I heart Lviv" henna tattoo?
At either end of this cauldron of activity you've got the Lviv Opera House and Ballet Theatre and on the other side a monument to Ukraine's national hero, Taras Shevchenko. There are cheap tickets to the opera whenever the troop is in town and it's worth a look if you want to be a fancy backpacker.
The Former Presidential Digs Of Lviv
The Palace of Potocki's Family was built in the 1880's for the president of the Austro-Hungarian empire. So, as you can imagine, the place was pretty fancy for its time and now the Ukrainian president has taken it over for his own summer house. You can look inside for 20 UAH and see some nice old paintings and furniture. My favourite, though, were the miniature castles at the back of the garden which you can see for free.
Related post: The coolest things to do in Kiev
The Best Place To Eat In Lviv:
All Hail The Mighty Puzata Hata
Okay, enough walking and time for our favourite place to eat in not only Lviv, but in the whole of Ukraine:
Puzata Hata
This glorious establishment is a chain buffet restaurant that has the cheapest and best food we ate in the whole country. It is unbelievable, you can get enough high quality Ukrainian food to feed 2 people for only €3!
The language barrier with the older generation of Ukrainians working behind the counter only adds to the fun.
Relaxation Time In Ivan Franko Park
Decompress and let all that food from Puzata Hata settle while you slowly roam one of the biggest parks in the city. Sit down and watch the world go by or maybe join in on a yoga class?
If you like churches, head to the very Orthodox and golden St. George Cathedral a little further up the street.
Some Hidden Things To Do In Lviv
Lviv Has Its Own Museum of Beer!
The Lvivske Museum Of Beer is a 300 year old brewery, making it Ukraine's oldest. We didn't get time to make it over there, but we heard great things about it from other backpackers. If you like beer it should be a safe bet for a good afternoon out. Entry is 15 UAH.
The museum isn't the real attraction, though; it's actually the beer hall next door next door, which is also one of Lviv's best nightlife spots. Robert Dom's beer house is as lively as any beer house back in Bavaria! You can get big beers for less than a Euro and they also serve food if you get peckish.
To get out there take tram 7 or walk 40 minutes to prepare yourself for all the carbs you're about to consume.
Related post: See some more famous Ukraine nightlife in Odessa
Let's Dive Deeper Into The Lviv Nightlife Scene!
Finish the day by ticking off one of the top things to do in Lviv: a visit to Masoch Café, the strangest bar we've ever been to.
This place is a bar dedicated to the original erotica writer Leopold Ritter von Sacher-Masoch who is said to have invented BDSM. It's not a strip club or swinger bar, but a normal bar with a few bras hanging from the ceiling. The major attraction to this fantastic nightlife spot, however, is the waitresses carrying around whips!
Our poor friend Maxime (you might have noticed some of his amazing photos) got whipped over a dozen times because he had his back turned to the bar. The last laugh was on me, though, as I laughed too much at Maxime. The evil bar maid then forced me  to take my shirt off in the middle of the bar and get a dozen lashings while meowing like a cat….
Really, really strange and very, very funny.
What To Do In Lviv: Day 2
Last Church In Lviv
Get up late and head back to Lviv's old town to start exploring the eastern part of town. Start by heading for a look at the Dominican Cathedral. Okay, to be honest this church isn't that impressive, but there are lots of very nice cafes around that area for you to charge your batteries. The cathedral does make a nice backdrop to look at while you sip on your coffee and eat breakfast.
A Lviv Nightlife Favourite – During The Day
Once you've filled up on breakfast and coffee walk around the corner to the weird and wonderful House of Legends. This is a another famous Lviv nightlife spot, but it is even better during the day.
They have an excellent view point on the roof that you can go up to for FREE! Who knows how, but they managed to get a VW Beetle on the roof that still runs. I wouldn't suggest hanging around for food, though, as the place is very pricey and not that good.
Unusual Things To Do In Lviv
Get Lost In Lviv's Biggest Graveyard Lychakivske Cemetery
It's one of the unusual options among the top things to do in Lviv, but this cemetery is well worth a visit. The place is huge with around 400,000 people buried there! You can spend a few hours just wandering around looking at head stones, watching stone masons and working out if any of them are famous. Chances are they will be with many Ukrainian national heroes, writers, generals and soldiers buried here.
This is also a good opportunity to understand the loss Ukraine is suffering in the current war going on in the East.
The cemetery is a 5 minute taxi ride, 15 min tram or an easy 40 min walk from downtown Lviv. Entrance will cost you 10 UAH – remember to hide your camera on the way in or you'll be charged an additional photo fee.
Related post: Backpackers guide to Warsaw
Secret Things To Do In Lviv
Okay Not Yet, Food First.
Yep, back to Puzata Hata! This time you can check out their other restaurant in town, located on the other side of Lviv's old town. Alternatively you can check out Halicki Rynek (the fresh food market) if you want to try some local produce.
Now It's Time For That Ukraine Romance
This is where all the local Lviv youth come to secretly hold hands on romantic dates, watching the sunset before heading out for dinner. Date or not, head to Castle Hill for sunset and enjoy the stunning view.
PS. There isn't actually a castle on the hill, that's just the name of the place. The view is still worth the easy climb, though!
Back To Wandering The Streets Of Lviv Old Town
Soaking up the magical atmosphere was one of our favourite things to do in Lviv. The locals are nice and friendly, both the food and the beer are cheap and, best of all, there aren't many tourists around.
The Best of Lviv's Nightlife Is Yet To Come!
Dinner And Drinks In An Underground Bunker
The biggest and most famous of Lviv's nightlife is Kryivka which is located in the market square underneath one of the best restaurants in Lviv. Don't let this fool you, though, as it's far from a 5 star dining experience.
The bar is a throwback to WWII with paraphernalia from the war everywhere. There is even a shooting range in the back where you can shoot at a picture of Mr. Putin himself, believe it or not. If you don't like guns but still don't like Putin you can also just wipe your ass with Putin toilet paper – again, believe or not.
Don't forget the password to get in: "Slava Ukraini!" or "Glory to Ukraine!"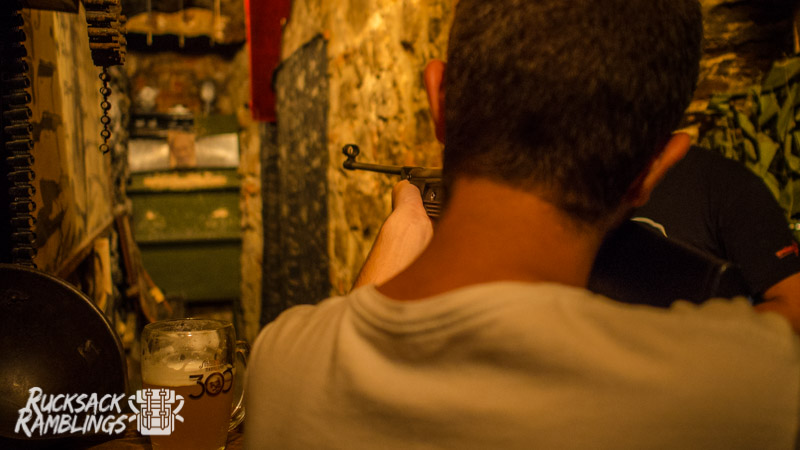 Shhhhhh! Time For The Best Hidden Lviv Nightlife Experience
To cap off your weekend of unusual bars and weird experiences you can have a drink at Libraria! This cocktail and jazz bar is up a wooden staircase and through a book case. This is what a true speak easy should be like, hard to find! I'll give you the google maps co-ordinates and leave the rest up to you 😉
Lviv Travel Essentials
Getting To Lviv
Flights To Lviv
Easy peasy. Lviv has a new international airport just outside of town. There are buses and trams running from the airport into the centre for around 3 UAH.
Buses To Lviv
Lviv is the transit hub for Ukraine and the rest of Europe and therefore has a great bus network flowing in and out of the city. The best option is one of the many daily buses to Poland or the Krakow to Lviv night bus by Eurolines.
The Krakow to Lviv bus will take around 9 hours and costs around €20 one way.
Trains To Lviv
There are frequent trains from Kiev to Lviv. The journey can take from 5 hours to 12 hours depending ion whether you take the fast day train (2 per day) or an overnight sleeper. The fast train from Kiev to Lviv is the more expensive option, but the sleeper gets in very early in the morning (4:30 AM). Another great option is to stop at
Another great option between Kiev and Lviv is to stop at the up and coming Rivne. Not only is Rivne another awesome small Ukrainian town, but it's the main stop to see the instagram famous 'Tunnel of Love'.
There is also a train from Lviv to Krakow, but it is a sleeper train with a border crossing at 4 AM and arrival in Lviv at 6 AM. So this isn't the greatest option if you like your sleep.
There are also train connections to Hungary and Slovakia (we came from Slovakia). Those are made through the town of Uzhgorod, Ukraine, and are again on slow sleeper trains. They are quite cheap with our 12-hour ride only costing €4!
Check the official Ukraine train website for times and to buy your tickets.
Getting Around Lviv
Lviv public transport options are plentiful with buses, trams and trains running everywhere. They are all nice to look at from the outside, but you won't need to see the inside of them very much with everything in Lviv accessible by foot. The only thing you'll need public transport for is the cemetery or the Lvivske Museum of Beer.
Accommodation In Lviv
The Best Hostels in Lviv
This is the other major money-saving part about Ukraine travel; the accomodation prices are DIRT CHEAP!
We stayed at Cossacks Hostel for €4 per night in a 10-person dorm and couldn't have been happier with the place
Another cheap and good option is Hostel Shelter, again at only €4 per night
The Best Hotels in Lviv
As always we are big fans of Airbnb and Lviv isn't short on great value options. If however you want a real hotel the best options would be to check booking.com for the best deals.
What To Eat In Lviv
Make sure you head to Puzata Hata to try all the Ukrainian food you can possibly want. Top of your list should be;
Varenyky – dumplings stuffed with cheese, onions, meat, cherries or basically anything
Borshch – a hearty vegetable broth soup that can have meat in it or be vegetarian
And of course deruny or potato pancakes
What To Say In Lviv
There is no Latin letters in Ukraine as they use the Cyrillic alphabet. Here are some basics to try and get you through;
Yes = Tahk
No = Nee
Hello = Doh-bryy dehn
Please = Bood lah-skah
Thank you = Dyah-koo-yoo
Im sorry = Vih-bach-teh
It's a super difficult language so if you get these basics, high fives all around! If you need help while you're out and about most of the younger generation speak English and should be able to help.
Like It? Inspired? Pin It For Later!
There are affiliate links in this article. This means that we get a small commission from the company if you buy their product at no extra cost to you. We only use affiliate links for companies/products we have personally used. Just think of it as if you were buying us a beer to thank us for the work we've put into this post.